GM: Boards Magazine, Issue 11 Volume 8
Ed White, Senior Editor of Boards Magazine sent this our way today. Geoff did the cover and though it was out in November of 2007, I hadn't seen it so I thought I'd share.
Issue 11's theme is, "Music In Advertising" and Geoff had this to say about the cover art, "I wanted to illustrate how music is a mechanized thing, sequenced sounds of hammers hitting strings, or bleeps from a computer. I wanted the image to represent how working with someone who is a genius can feel sort of out of control and random, but in the end you are surprised at the precision of the outcome. Advertising often talks about the same things over and over. To make things feel new, new language is created to say the familiar. Music and art are the infinite raw materials for it to draw from."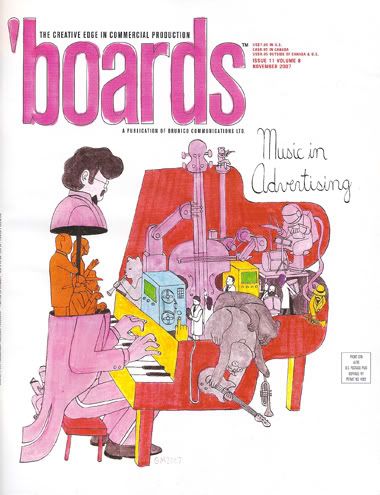 Thanks Ed!

kenny forever
↓
solitary arts
mini skate shop
↓
jef hartsel
↓

bob lake
↓
ez ryder
is jef hartsel and jay adams
↓



geoff mcfetridge
interviews yong-ki chang
↓


our inclusion
in stuff
↓


equal dist. is
yong-ki chang
in the bay area
↓
champion don't stop
is geoff mcfetridge
in atwater village
↓