Patagonia Video Post
On March 29th of this year, Patagonia had a T-Shirt Art Exhibit in their Santa Monica location for a handful of artists.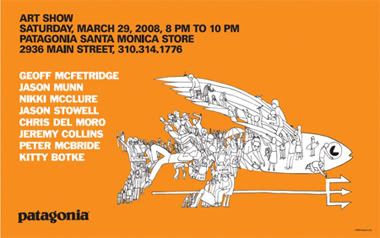 In addition to the plethora of t-shirt graphics that Geoff McFetridge did over a 3 1/2 year course for Patagonia, he also designed their Bend To Baja site as well as the masthead for The Cleanest Line page.
Below is the video for the opening reception. Thanks to Brooks Scott at Patagonia, Chicago for sending this to us today.




kenny forever
↓
solitary arts
mini skate shop
↓
jef hartsel
↓

bob lake
↓
ez ryder
is jef hartsel and jay adams
↓



geoff mcfetridge
interviews yong-ki chang
↓


our inclusion
in stuff
↓


equal dist. is
yong-ki chang
in the bay area
↓
champion don't stop
is geoff mcfetridge
in atwater village
↓