Save The Waves Presents" Life Is A Wave"
Skylar Crawford from Save The Waves asked The Solitary Arts to participate with donating a Big Red complete for tonight's (May 22, 2008) "Life Is A Wave" event, honoring the efforts of Mark Massara. It's at 111 Minna from 6pm – Midnight, here in San Francisco.
$20 gets you in and $50 (green package) gets you a membership along with a goody bag and entry. Can't hurt and with the Mollusk family in full-tow along with a ton of other noteworthy participants, this should be pretty awesome.
On a related note, you can still check-out Ferris Plock and Kelly Tunstall's show as it's still up when I visited 111 Minna today. Once again, congratulations with the recent marriage! We had a great time at the wedding! Mahalo.
Check Save The Waves for complete info related to their efforts and tonight's party.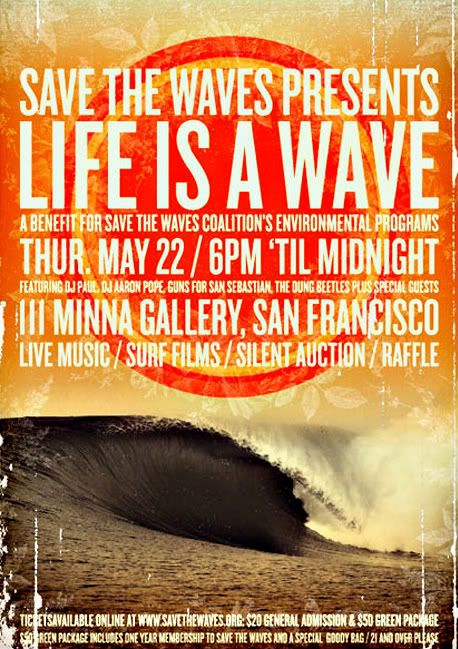 kenny forever
↓
solitary arts
mini skate shop
↓
jef hartsel
↓

bob lake
↓
ez ryder
is jef hartsel and jay adams
↓



geoff mcfetridge
interviews yong-ki chang
↓


our inclusion
in stuff
↓


equal dist. is
yong-ki chang
in the bay area
↓
champion don't stop
is geoff mcfetridge
in atwater village
↓