Little Giants Volume 1: Don Pendleton Trailer #1
We can't wait…
Mumble Magazine
and
Don Pendleton
Bill Frisell Prints
I've been fortunate to have taken most of my closest friends and family to see Bill Frisell play throughout the past 13 years in various groupings and solo performances. He resides in that personal-space as one of my most cherished musicians.
In recent years, his drawings have appeared on the cover of his album, "The Willies" and his book, "An Anthology" but for the first time, 3 Serigraph prints and a postcard drawing are being offered. This short run is in an edition of 16.
We wanted to share our signed edition of prints before we get them framed.
Oh yeah, all Solitary Arts orders will include a Bill Frisell postcard until we run out of them. Thanks to Bill Frisell and to Adam at Songline/Tone Field Productions for the support.

Postcard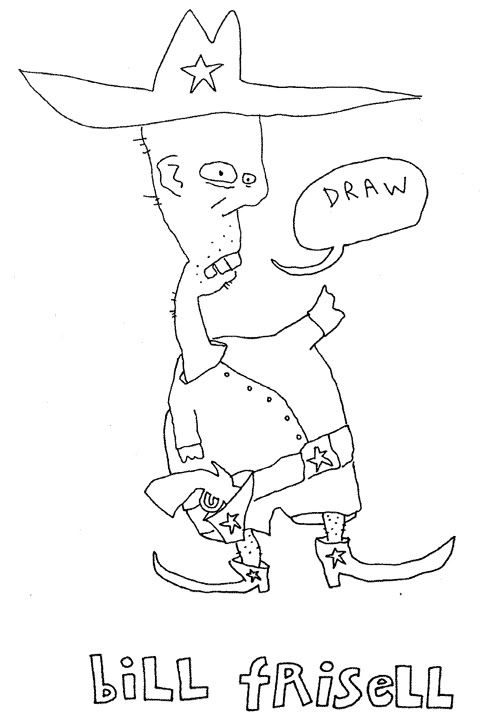 Signed print, edition of 16
Signed print, edition of 16
Signed print, edition of 16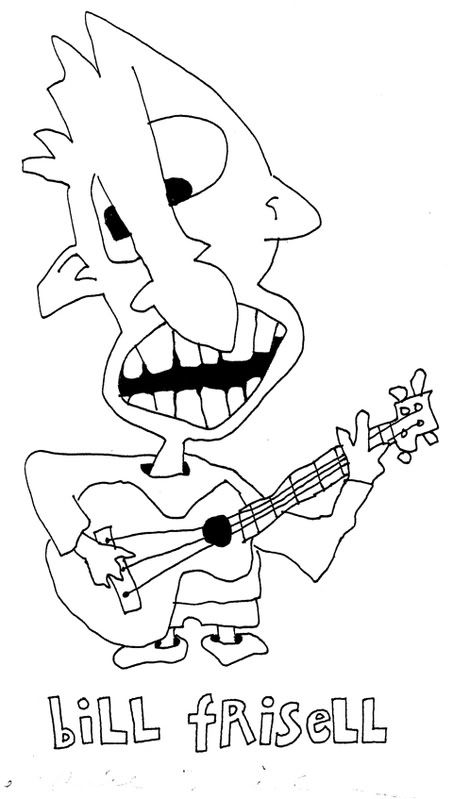 The Willies
An Anthology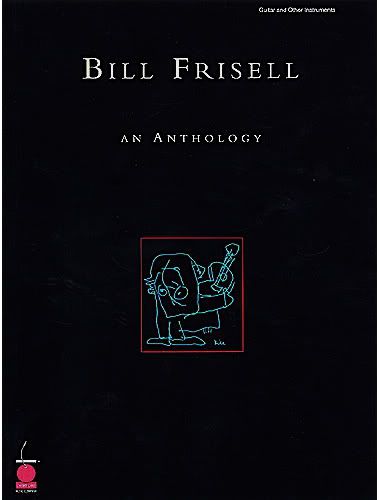 Jet Black Crayon "In The Interim"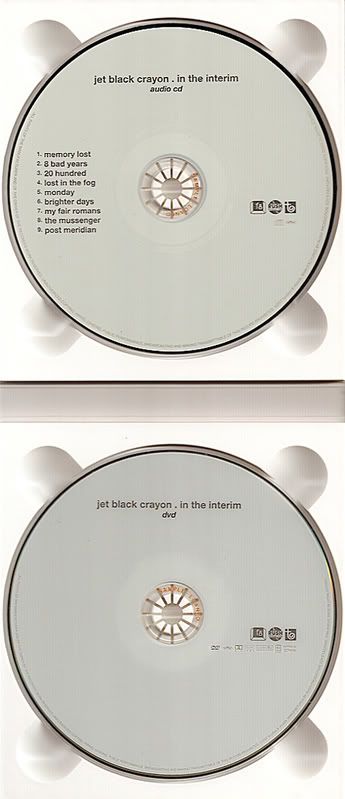 April 8, 2008 is the international release of
Jet Black Crayon
"In the Interim"
Jet Black Crayon re-emerges with their fifth release, the
CD
+ DVD In the Interim. The
JBC
trio—Tommy Guerrero (Quannum Projects, Mo'Wax, Galaxia, Function 8), Monte Vallier (ex-Swell, Def American/American Recordings, Beggars Banquet) and Gadget (Function 8)—created this next level of collaboration by working with independent filmmakers.
Seven of the nine tracks on In the Interim are complemented with short films. The filmmakers include Andrew Paynter (music photographer, artist), Dan Wolfe (skateboard filmmaker: Real Skateboards, Nike SB, Adidas SB, etc.), Greg Hunt (skateboard filmmaker: DC Shoes, Transworld Media, Alien Workshop), Cheryl Dunn (filmmaker and photographer: Beautiful Losers) and Christophe Beaucourt (independent French filmmaker). – FUNCTION 8
Zip Zinger Rally @ DLXSF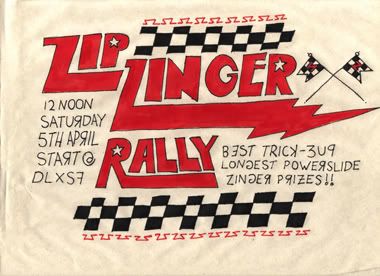 GM: Boards Magazine, Issue 11 Volume 8
Ed White, Senior Editor of Boards Magazine sent this our way today. Geoff did the cover and though it was out in November of 2007, I hadn't seen it so I thought I'd share.
Issue 11's theme is, "Music In Advertising" and Geoff had this to say about the cover art, "I wanted to illustrate how music is a mechanized thing, sequenced sounds of hammers hitting strings, or bleeps from a computer. I wanted the image to represent how working with someone who is a genius can feel sort of out of control and random, but in the end you are surprised at the precision of the outcome. Advertising often talks about the same things over and over. To make things feel new, new language is created to say the familiar. Music and art are the infinite raw materials for it to draw from."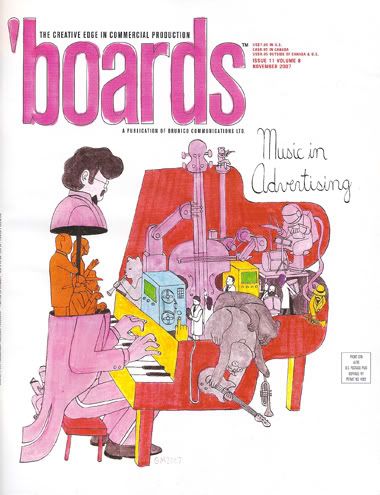 Thanks Ed!
Blue Magazine No. 10: GM
Thanks to Takashi Tomita for keeping us in mind and sending us every issue of Blue Magazine from Japan.
Geoff @ SAM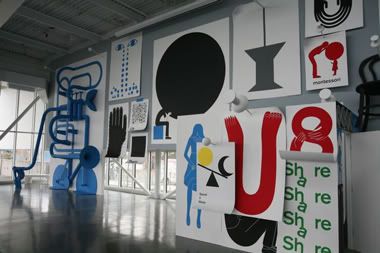 Geoff & SAM
"In The Mind"
Opens March 29, 2008
OSP PACCAR Pavilion
"Each year, a new artist will be invited to create a site-specific project in the Olympic Sculpture Park's PACCAR Pavilion. This year, the inaugural installations by Pedro Reyes and Glenn Rudolph will make way for a project by Los Angeles–based Geoff McFetridge."
- Seattle Art Museum; Olympic Sculpture Park
The Pocket Horn Is Being Built
We're currently building the next complete release for the Solitary Arts. It's called the Pocket Horn and it'll be the sister of the Traveler. It was featured in Geoff's show at REDCAT GALLERY and can be viewed until April 6.
This one is 9-plys of hard-rock maple both to resemble the original Traveler as well as for added strength. This way, you can charge on this little board and know that it'll survive at the bottom of the hill. Again, with all of our boards, it comes complete. Tracker Mid-Tracks (85mm), Black Eggs (50mm 87a duro), and laser-cut S.A. grip. This one is half the price of the OG Traveler. Available soon on our site as well as through our fine selection of retailers. Aloha.
Michael Leon ON RADIO: Mumble Magazine
Listen-in on Michael Leon's interview with Mumble Magazine. Michael tells us the worst thing about skateboarding. We have to agree.



kenny forever
↓
solitary arts
mini skate shop
↓
jef hartsel
↓

bob lake
↓
ez ryder
is jef hartsel and jay adams
↓



geoff mcfetridge
interviews yong-ki chang
↓


our inclusion
in stuff
↓


equal dist. is
yong-ki chang
in the bay area
↓
champion don't stop
is geoff mcfetridge
in atwater village
↓